Drivers urged to put safety first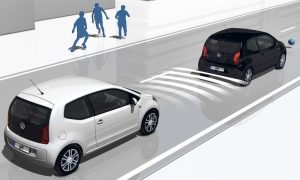 New car buyers are more likely to upgrade infotainment systems than choose enhanced safety features, according to new research.
Four in five motorists say that safety technologies are important when buying a car, but a fifth refuse to pay extra for them even if it reduces the chance of having an accident on the road.
The Stop the Crash Partnership, made up of crash test assessors Global NCAP, Thatcham Research, Bosch UK, Continental Tyres UK and ZF TRW, is proposing a three-point plan to address the low-take up of additional safety technologies.
1. AEB as standard: 83% of drivers agreed that the best safety features should be fitted as standard. Stop the Crash supports this view and is calling on car manufacturers to fit AEB (Autonomous Emergency Braking) as standard on all new makes and models. At present only one of the 10 best selling cars in the UK has standard fit AEB.
2. Safety stocked: vehicle manufacturers should review how readily available cars with safety tech such as AEB and Lane Keep Assist systems are to dealers – for test-drives, demonstrations and sales.
3. Dealer safety training: 76% of consumers said they would expect a demonstration of the safety technologies on board when buying from a franchised dealership. Stop the Crash is calling on vehicle manufacturers to invest more on training so that dealers can explain safety technologies to consumers and successfully "sell safety".
The view of the Stop the Crash Partnership is that if motorists can apply pressure by demonstrating that safety is a 'deal-breaker' it will encourage more manufacturers to fit safety technology as standard, as well as understanding the importance of premium tyres with adequate levels of tread depth, the number of accidents worldwide would reduce.
For example, it has been found that AEB can lead to a 38% reduction in real-world rear-end crashes and has the potential to save 1,100 lives and more than 120,000 casualties over the next 10 years.